The deaths of three young sisters in Linden, Texas left a community in shock and a family mourning the loss of their loved one. The Cass County Criminal District Attorney's Office shared autopsy reports confirming that the sisters were homicide victims. Community activist Quanell X wants to know why the FBI has not gotten involved. According to him, law enforcement hasn't done enough to seek justice for these three innocent children that were brutally murdered last year.
Temari Oliver, 5; Amiyah Hughes, 8; and Zi'Ariel Oliver, 9, were under the care of a family member when they went missing on July 29th of last year. In a previous statement, Cass County Sheriff Larry Rowe stated that the three girls were last seen at a residence on the outskirts of Atlanta, Texas on State Highway 77.
Their bodies were later found in a private pond. Law enforcement initially reported that the girls had drowned. However, the autopsy report showed indications that the girls were strangled and had cuts on their faces.
In a heartbreaking Facebook post, the girls' mother expressed her sadness not long after the children were killed.
My heart it hurt so bad because my babies are gone to be with the lord & I know everyone have a role on earth but their role's was to short. They had a long life ahead of them, and now they will never get to grow up into the young ladies I know they was going to be.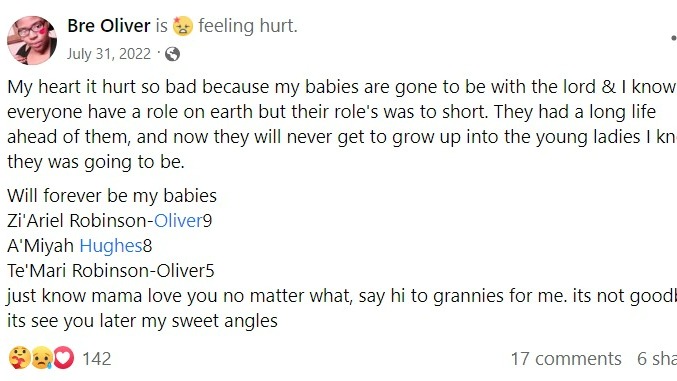 According to the girls' mother and Civil Rights Activist Quanell X, no arrests have been made. In a recent Facebook post and emergency call to action, QX expressed his concerns and plans to travel to Linden, TX this week to hold a press conference and demand justice for the Oliver girls.
It's extremely upsetting to me that the local law enforcement agency handling this case hasn't requested assistance from the FBI to lead this investigation. This is a triple homicide case with a dangerous murderer on the loose. If these were blonde hair blue eyed white girls, this case would have made national headlines and the FBI would have been called out months ago.  It's disheartening to feel like law enforcement is indifferent to the situation. -Quanell X

Cass County Sheriff Larry Rowe provided us with the following statement:
Since the very beginning of this case the Texas Rangers have been the lead investigating agency in this case. They have been working with Cass County D. A. Office.  The Linden Police department are all not involved.  I do know the owner of the pond has been ruled out and was never a suspect. Any suspect information would come from Texas Ranger Josh Mason staioned out of Texarkana Tx.
Texas Ranger Josh Mason was unavailable for comment. If you have any information that may lead to an arrest, you are urged to call law enforcement. This was a senseless act of violence against three innocent children. These young girls had their entire lives ahead of them. Their deaths should not go unpunished. We need to come together as a community, and someone needs to come forward and provide information about what happened to these children. This family deserves justice. The killer needs to be caught and held accountable for this heinous crime. Let's work together to bring justice for Zi'Ariel, A'Miyah, and Te'Mari and bring closure to their family and community.